Rube Goldberg's 139th Birthday Party
73 Raspberry Rd, Elma, WA 98541
4 July 2022 - 1:00 pm
So far . . .
42 people say they are coming to this party.
7 people are interested in the Improvised Crazy Contraption Contest.
3 people are interested in the BYO Rube Goldberg Machine Contest.
16 people are bringing a meatless side dish to share.
We need coolers, ice & chairs! It looks like an amazing turnout, which means we're gonna need some help with "seating & cooling." Please bring some if you can (and be sure to label your stuff). Thanks!
---
Ditch the jingoism this year…
and come celebrate the life of a true American original!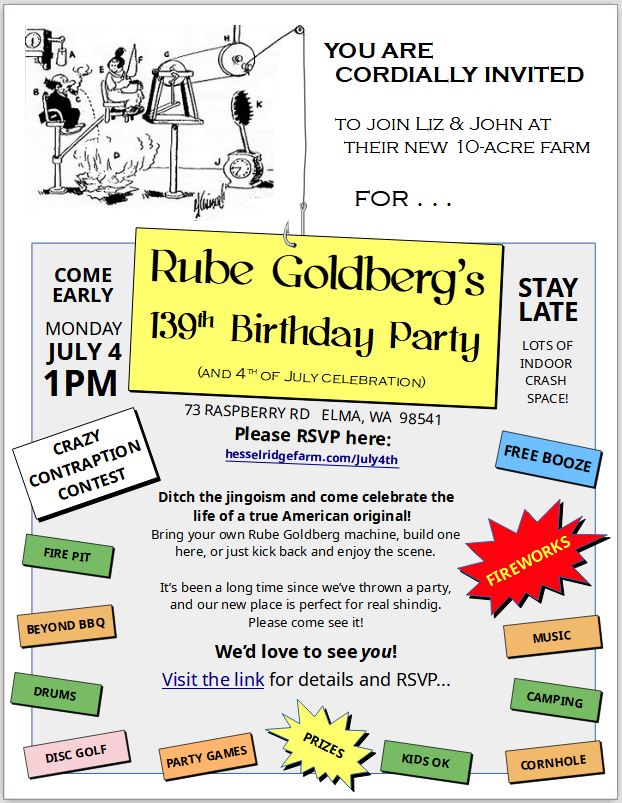 Hey, Friends . . . after two years of social isolation, crazy anti-vaxxers, hard news, and the chilliest, wettest spring in the past 7 years, it's time for a party! So, we decided to invite a bunch of our not-crazy, not-anti-vaxxer friends to a get together for an only-somewhat-crazy party at our new 10-acre property west of Olympia.
This year, we celebrate the life and legacy of American humorist Rube Goldberg with a party and contest!

Bring your own Rube Goldberg machine, build one here, or just kick back and enjoy the scene at our beautiful new place. It has been a long time since we've thrown a party, and it is the perfect spot for real shindig.

Do come see us!
We'd love to see you!